New Releases...
Download Catalogue...
Download Excel Data
Download PDF Catalogue
You will get a Excel file with detail about catalogue.
You will get PDF file with detail about catalogue.
Detailed info...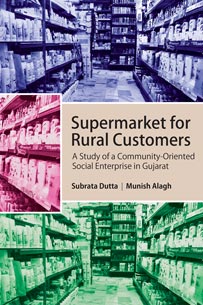 Hardcover • 2017
Pages: 174
ISBN: 9789332704275
US$49.95
+ Add to Cart
---
Publisher:
Academic Foundation
Supermarket for Rural Customers
A Study of a Community-Oriented Social Enterprise in Gujarat
---
About the Book
This book showcases a community-oriented business network which is functioning as a retail/supermarket franchising model in the state of Gujarat in India. The network is operating under the banner of 'Hearty Mart'—an organisation which is the brainchild of Nadeem Jafri, the franchiser-entrepreneur. Since Nadeem belongs to the family of a sect-head of the Shia Momin community, his religious superior position in his community has given him an opportunity to build a 'community-oriented' franchising network (i.e. a network that has engaged his community people as franchisees) of the Hearty Mart supermarket chain in rural areas. Two important dimensions are attached with this new retail model—one, the 'organisational aspect' of a small-scale supermarket chain and, two, the concept of 'social entrepreneurship'. This book delves deeper into these two interesting aspects and comes up with detailed observations. Local customers' views have also been documented in the book.
---
Praise for this book
The book is a welcome addition to the growing literature on social entrepreneurship, a rather nascent field of enquiry. It beautifully unravels the intricacies
involved in emergence, survival and growth of a community based social enterprise, with all its triumphs and tribunals. It is a very interesting reading for academicians and managers alike.
Former Director, Entrepreneurship Development Institute
of India, Gandhinagar, Gujarat.
Scholars and students who are studying organisation of franchisee development, marketing, social enterprise, community network in business development, new brand creation, and rural customer behaviour in India would definitely benefit a lot from this book. Besides, companies reluctant to promote
supermarket franchise in rural areas can certainly learn a good lesson from this study.
Professor, CEPT University, Ahmedabad, Gujarat.
---
About the Author(s) / Editor(s)
Subrata Dutta is an Associate Professor at the Sardar Patel Institute of Economic and Social Research (an ICSSR Institute)
in Ahmedabad, India. His research focuses on entrepreneurship, rural industrialisation, and economics of rural growth linkages, among others. He received his PhD degree in Social Sciences (Economics) from Wageningen University in the Netherlands, and has published papers in national and international journals.
Munish Alagh is a Senior Fellow of Indian Council of Social Science Research (ICSSR), based at Sardar Patel Institute of Economic and Social Research, Ahmedabad. He has completed his PhD from University of Mumbai in the area of agricultural markets and price response. He has written three books and numerous articles. His academic papers have been published in reputed Indian journals such as Economic and Political Weekly, Indian Journal of Agricultural Economics etc. He has been teaching and doing research in reputed institutes for the last 20 years, including 10 years as a faculty of Economics in Ahmedabad University's MBA department.
---
---
Print Brochure...
Print as it is
Customised brochure
You will get a printout of what you see on your screen under 'Detailed Info'(Uneditable).
You will have the opportunity to edit the text and adjust the extent to fit on A4 size sheet or more accordingly as you desire. Plus, you can download the edited/customised Brochure or simply print it (CTRL + P).