New Releases...
Download Catalogue...
Download Excel Data
Download PDF Catalogue
You will get a Excel file with detail about catalogue.
You will get PDF file with detail about catalogue.
Detailed info...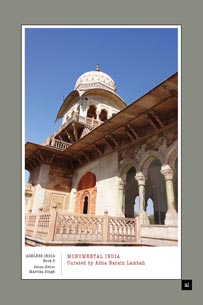 Hard-cover • 2016
Pages: 208
ISBN: 9789332702059
US$24.95
+ Add to Cart
---
Publisher:
Academic Foundation
Monumental India
Curated by Abha Narain Lambah
Ageless India Book 5
---
About the Book
The material, man-made heritage of India rests in the extraordinary range of ancient and contemporary cities and historical forts; in the grand palaces and private havelis, the mansions and homes; in the temples, shrines and places of worship dedicated to all faiths and religions; in the gardens and tombs; even great institutions of learning. The architectural expertise spanning millenia, embellished with fine surface decoration representing time, age and purpose, makes this legacy of India unsurpassed, precious and fragile. This collection of photographs by conservation architect Abha Narain Lambah establishes the urgent need for conservation and preservation. India must take ownership of her varied and layered past to conquer the future. This compendium is merely the tip of a formidable khazana.
---
About the Author(s) / Editor(s)
Malvika Singh, publisher of the monthly journal Seminar, is a well known columnist.

Malvika initiated and edited the India magazine, the first of its genre, that explored the many facets of India, her people and cultures. She has authored several books: Perpetual City; Bhutan Through the Lens of the King; New Delhi: Making of a Capital; Delhi: India in One City; and Snowdon's India. She has edited Delhi: The First City; Chennai: A City of Change; Hyderabad: A City of Hope; Kolkata: A Soul City; Lucknow: A City Between Cultures; Mumbai: A City of Dreams; and Freeing the Spirit: Iconic Women of India.

Malvika Singh has also worked in theatre and film, and was decorated as a Dame in the civil merit honours list of the King of Spain in 2009.
---
Print Brochure...
Print as it is
Customised brochure
You will get a printout of what you see on your screen under 'Detailed Info'(Uneditable).
You will have the opportunity to edit the text and adjust the extent to fit on A4 size sheet or more accordingly as you desire. Plus, you can download the edited/customised Brochure or simply print it (CTRL + P).