Download Catalogue...
Download Excel Data
Download PDF Catalogue
You will get a Excel file with detail about catalogue.
You will get PDF file with detail about catalogue.
About the Author
PRINT
Serena Chopra
---
Serena Chopra is a graduate in English Literature and Mass Communication. She was an entrepreneur for 20 years till in 2004 she returned to work with her twin passions—photography and journalism. Her first body of work on Bhutan led to solo shows in New Delhi, Bhutan and New York. A monograph of this work was published in 2007.
Serena, very sensitively, almost invisibly without intrusion, walks her viewers into an all-encompassing portal that reflects the many manifestations of the lives of her subjects, the people and places that she is moved by.
She has explored and delved into the life and times, truths and realities of resident Tibetan exiles who have made Majnu Ka Tilla, their home away from home in Delhi; she has participated in a photo exhibition at the Bonjour India Festival (2013) showcasing the remnants of a past French heritage in Chandernagore; she has photographed Naga sadhus at the Kumbh Mela (2010) in Haridwar and during Shivratri (2013) in Varanasi.

Serena is currently working on a travel story series on the Indian Himalayas which she calls 'Himalayan Diaries'— beginning with Uttarakhand. She is also working on a project in Kedarnath, capturing the traumas and the human resilience that followed the cloud burst tragedy of 2013.

"Along the Ganga", the second in a series of picture note-books, published under the banner—Ageless India—is a collection of 52 photographs that tell a visual story of a personal journey (series editor: Malvika Singh; Academic Foundation, 2015).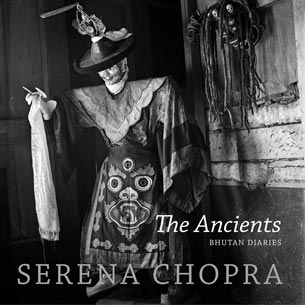 Bhutan Diaries
Hard-cover • 2015 • 358 • 9¼ x 9¼ (inch) ISBN 9789332701991 • INR 3000